As an Amazon Associate I earn from qualifying purchases. I have a similar affiliate relationship with Barnes & Noble, Ticketmaster, StubHub & GoldStar.
Official Statement

It is with profound sadness that we confirm that Gordon Meredith Lightfoot has passed away. Gordon died peacefully on Monday, May 1, 2023 at 730 p.m. at Sunnybrook Hospital in Toronto. He died of natural causes. He was 84 years old.
He is survived by his wife Kim Hasse, six children — Fred, Ingrid, Eric, Galen, Miles and Meredith — as well as several grandchildren.
Welcome to my Gordon Lightfoot fan site. Although this isn't an official artist's site, I try to accomplish the same thing, and therefore I include all the key elements of such a site. Most of the site is devoted to singer/songwriter Gordon Lightfoot, including a biography, concert tour schedule, lyrics, and information on all the available (and not available) albums, as well as the latest news. My love of Lightfoot's music led me to discover many other wonderful folk musicians, and I include some articles about them, mostly in the Folk Notes column. One of them, Bob Gibson, influenced Lightfoot's 12 string guitar playing and the song structure for one of his most famous songs, Canadian Railroad Trilogy. Another, singer/songwriter Steve Gillette, wrote a song called Darcy Farrow (video), that Lightfoot performed very early in his career. All of these folk musicians write and play music that I enjoy, and that I think you will enjoy too. See the list below for quick links to information about them.

Join my Mailing List for occasional newsletters and announcements. Mailings are at the rate of approximately one a month, unless you request "ALL" messages in which case you will also get periodic concert updates about concerts around the country. And, if you are into social media, you can follow my Twitter account, @LightfootMusic, Friend me on Facebook, and join my Gordon Lightfoot Fan Club on Facebook. Remember, although I try to send email updates and post on social media, the tour schedule here on this site is always updated with the confirmed dates as well as venue and ticket purchase links, and pre-sale and on sale information. Check it frequently.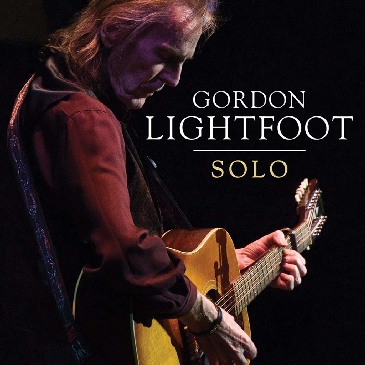 Released 3/2020: Gordon Lightfoot Solo
Read more here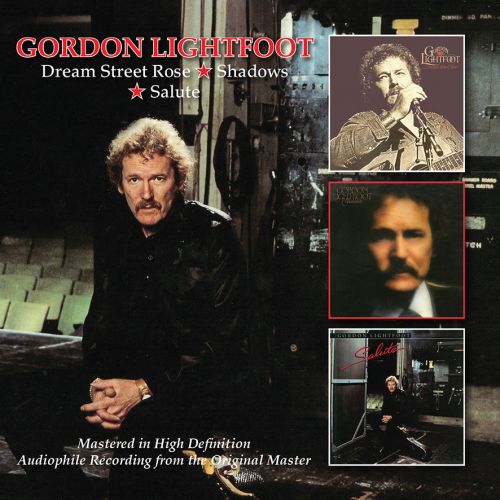 Buy from Val
More about this set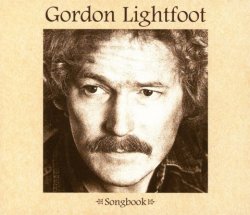 SONGBOOK 4CD SET!
Buy from Val
More about Songbook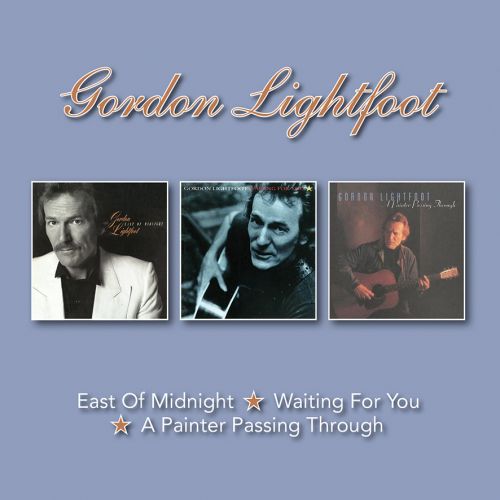 Buy from Val
Latest news & additions:
Gordon Lightfoot, John Prine Among Folk Americana Roots Hall of Fame's Inaugural Class of Inductees (9/2023),
NEW Gordon Lightfoot Sundown Limited Edition LPs from Friday Music (7/2023),
NEW Gordon Lightfoot If You Could Read My Mind Limited Edition LPs from Friday Music (7/2023),
NEW Gordon Lightfoot Summertime Dream Limited Edition Translucent LP from Friday Music (5/2023),
New Book by Ric Mixter about Edmund Fitzgerald Shipwreck (Fall 2022),
New Gordon Lightfoot film available on DVD, "Gordon Lightfoot: If You Could Read My Mind (8/2020),
Gordon Lightfoot Announces New Album (3/2020)
New Interview: Gordon Lightfoot says new album will be out in March and it will be solo (3/2020),
"Sundown" is in the new film, "Knives Out" (Nov 2019),
See the "Holiday Music" selections available from my online store!
Gordon Lightfoot The Complete Albums 1970-1998 (Nov 2019) - 146 songs on an economical MP3 album. It is time to rejoice! Or is it?
Songs from the Two Tones LP available on various MP3 albums!,
Gordon Lightfoot Documentary First Showings in US as Part of Milwaukee Film Festival Oct 22, 24, 29 / Also in Minneapolis, MN on Gordon's birthday and in London, England on Nov 7 / Watch Movie trailer
Gordon Lightfoot a 2019 Inductee into the Canadian Entertainment Hall of Fame
Gordon Stops in & Sings a Song at 2019 Mariposa Folk Festival
Latest Bob Dylan Bootleg CD on Preorder Now
New Early '70s Live Recordings from Ian & Sylvia (no Lightfoot content, but worth a look)
Interview of Lightfoot May 2019 - Highlights: Stopped smoking & new album!
Gordon Lightfoot: The Complete Singles 1970-1980,
The Folk Legacy Trio Sings Gordon Lightfoot,
Drop the Needle on the Hits: Best of Gordon Lightfoot (B&N exclusive, 11/17/2017),
Gordon Lightfoot Concert Review by Don Ketchum, Phoenix AZ 3/2019,
Birthday interview brings great news: he'll be touring again in 2019 and the big surprise ...
A new album coming in about a year! Read the Toronto Sun article,
New "best of" CD, "An Introduction to Gordon Lightfoot," now available,
Rick Dougherty, formerly with The Kingston Trio and The Limeliters, Releases Guitar Manual,
Kingston Trio - Born at the Right Time CD available here. Read more ...,
3 album set (2 CDs) with "East of Midnight," "Waiting for You," and "A Painter Passing Through,
The Edmund Fitzgerald Investigations DVD now available in my store,
"Waiting for You" CD re-released; available here!,
Yarmouth Castle shipwreck anniversary November 13th. About the song "Ballad of Yarmouth Castle",
Review of "Lightfoot" by Nicholas Jennings,
Mark Mason - Charleston Musical Portrait (with a Lightfoot Connection),
Eric Greenberg's 1978 Lightfoot Interview, "What Brings Lightfoot Back to Buffalo?",
Alberta Ballet's "Our Canada" Set to Gordon Lightfoot Music
Songbook Box Set Now Available for Download at iTunes!
Summertime Dream Audiophile 180 gram vinyl album available here in limited quantities
Steve Goodman Biography Gets 4th Printing!,
"Plans of my Own" - Song Review
Check for The Lightfoot Band concerts and Tribute Concerts on Ticketmaster,
Popsmacked: The enduring genius of Gordon Lightfoot (New article)
Gordon Lightfoot To Release New Song (Updated) / Audiophile Summertime Dream Vinyl Also in November
Long Overdue Review of Summertime Dream
Kristofferson, Lightfoot, Hawkins & Nelson Record Video of "Me and Bobby McGee"
Dream Street Rose, Shadows, Salute on 2 CDs - Available Here!
Songbook Box Set Available
Hotel Season 5 with Lightfoot episode available on DVD Read about it
Gordon Lightfoot Sheet Music,
Read about Gordon's great song, "Wreck of the Edmund Fitzgerald". Buy the MP3 @ Amazon: here,
Recent 2016 audio interview with Mike Sachs. Lightfoot segment starts just after 14 minutes.
Gordon Lightfoot Concert Review by Don Ketchum
If You Could Read My Mind Audiophile Vinyl - Order from Amazon
DVD and CD Sets of Chad Mitchell Trio Farewell Concert - Both Available Now
"Up in Buffalo": A New Lightfoot Song, a Co-write, Has Been Released
A nice new written interview with Gordon, from across the pond The Telegraph
Pete Huttlinger, Guitarist and Guitar Instructor, Passes Away (Billboard.com article). Author of wonderful instructional DVD: How to Play the Songs of Gordon Lightfoot,
Carly Simon memoir
Sculpture honoring Gordon Lightfoot Unveiled 10/23 in J.B. Tudhope Park in Orillia, ON (Toronto Star, 10/23/2015)
Diana Krall releases new version of "Wallflower" CD with additional songs, including a Lightfoot cover. Order at Amazon: Wallflower (The Complete Sessions) CD MP3 album Listen now: (You Tube)
New "Best of" Songbook Available
New "The Blacklist" soundtrack CD includes "Sundown" (WSJ) (Buy CD @ Amazon)
The Strombo Show - full radio show & video of unedited Lightfoot interview now online!
NPR Interview with Scott Simon, broadcast 2/14/2015,
New interview: Gordon Lightfoot On Longevity, Elvis, Dylan, & Bieber,
2012 Documentary Uses Lightfoot Recording,
My List of Cover Recordings of Gordon Lightfoot Songs,
Gord's Gold album receives audiophile treatment.,
Lightfoot recognized with SOCAN Lifetime Achievement Award; graces cover of Canadian Musician magazine. video,
Audiophile Vinyl Adventures After Record Store Day (Review),
A new, wonderful live cover of "Early Morning Rain" by Two Folk Music Legends,
Neil Young Releases "Old Technology" Vinyl Album of Covers, called "A Letter Home, Dips Into Gordon Lightfoot's Catalogue Twice,
Gordon Lightfoot's Sundown to Get Audiophile Treatment for Record Store Day 2014,
Gordon Lightfoot Video Interview,
Neil Young Performs Early Mornin' Rain at Farm Aid 2013 in Saratoga Springs,
Gordon Lightfoot / Neil Young: One Great Canadian Icon Fills In For Another,
All Live Album Audiophile 2 LP Vinyl Set Now Available,
Eric Clapton releases 1977 recording of Looking At The Rain,
Gordon Lightfoot Sunday Concert Plus Review - Very Belated!,
John Stockfish, Lightfoot's First Bass Player, Passes Away ,
Gordon Lightfoot Inducted into Songwriters Hall of Fame,
Gordon Lightfoot Latest CD: All Live, Review & Track Listing,
Biography of Ian & Sylvia, "Four Strong Winds" Book Review (Lightfoot content),
David Rea, "First" Lead Guitar Player for Lightfoot, Passes Away,
Book by Dave Bidini, "Writing Gordon Lightfoot" Review,
"Gordon Lightfoot: Canadian Railroad Trilogy" Children's Picture Book - Review,

Four Strong Winds
Read Book Review






Ian Tyson


10 songs in all
with solo recording
of "Darcy Farrow"

Carnero Vaquero
Ian Tyson

@ Amazon.com
@ Amazon.ca

Carnero Vaquero
Review Coming!

Other Artists
Steve Gillette & Cindy Mangsen
(Steve Gillette: Two Men In the Building)
Ian & Sylvia (Tyson)
Rick Dougherty - Singer, Songwriter, Guitarist & with the Folk Legacy Trio
Alison Krauss
John Denver
The Brothers Four
The Chad Mitchell Trio
Michael Jerling
Don Williams
David Rea
Bob Gibson
Hamilton Camp
Peter Paul & Mary
Steve Goodman
Bob Dylan
Roger McGuinn / The Byrds / Sweetheart of the Rodeo


with Josh Ritter
and Barnstar!
performing
"Darcy Farrow"

5 CD box with
"Darcy Farrow"
from
Rocky
Mountain High