As an Amazon Associate I earn from qualifying purchases. I have a similar affiliate relationship with Barnes & Noble, Ticketmaster, StubHub & GoldStar.
Cherokee Bend
About the song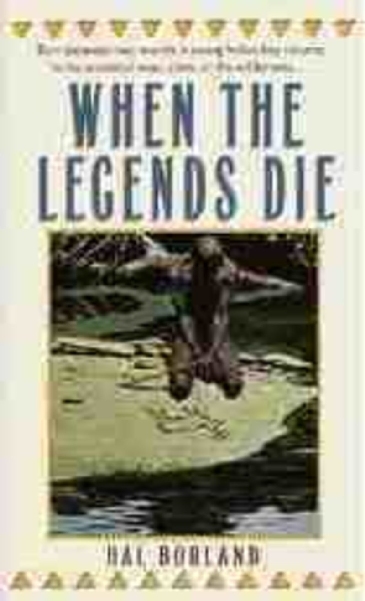 Cherokee Bend (listen to clip @ Amazon), by Gordon Lightfoot, is one of his most haunting story songs. But, unlike his most famous one, Wreck of the Edmund Fitzgerald, it is not based on a true story but on fiction. It is loosely based on a Young Adult novel, When The Legends Die, by Hal Borland. (The physical book is now 3rd party only; it's also available for the Kindle (device or app) here: Kindle version). The lyrics are gripping and compelling. The Borland book is frequently used in schools, in both traditional schools and the homeschooling setting.
Lightfoot has said he wrote the song after reading the adaptation published in Readers' Digest. Like many of his songs, there is an underlying message or sentiment. This song, perhaps more so than the book, is about the mistreatment of Indians (Native Americans). The music is strongly evocative of the drumbeats you might associate with Indian rituals and music, with a driving beat behind the storytelling. Lightfoot performed the song live as recently as 2002.
The clip and mp3 download (above, right) are from the original recording on the album Cold On The Shoulder; there is also a re-recording on Gord's Gold Volume 2, but I much prefer the original. In fact, the song competes strongly for a top 10 position among my favorites.

Find Lightfoot's Cherokee Bend on:
For reasons I don't know, the song was not chosen for the boxed set Songbook - a serious oversight, in my (not so humble) opinion! It's a great song!
Cherokee Bend, ©1975 by Gordon Lightfoot


His father was a man who could never understand
The shame on a red man's face
So they lived in the hills and they never came down
But to trade in the white man's place
Early in the spring when the snow had disappeared
They came down with a bag of skins
In the fall of the year of 1910
Daddy died by the rope down in Cherokee Bend. 

Daddy didn't like what the white man said
'Bout the dirty little kid at his side
Daddy didn't like what the white man did 
Nor the deal or the way that he lied
There was blood on the floor of the government store
When the men took his daddy away
And the boy stayed back till he come to his end
And he run like the wind from Cherokee Bend. 

Now the mother was alone and the winter was at hand
And she prayed to her spirit kin
It was warm in the lodge in the Kentucky hills
On the day when the boy came in
Then a blizzard came down and it covered up the door 
Till they thought that it never would end
And he told her the tale of the terrible affair
In the government store down in Cherokee Bend

Daddy didn't like what the white man said
'Bout the dirty little kid at his side
Daddy didn't like what the white man did
Nor the deal or the way that he lied
For three long days and three long nights
They wept and they mourned and then
She returned to her work and her weavin'
And they tried to forget about Cherokee Bend

Now the boy wasn't big but he hunted what he could
And they lived for a time that way
But the food run low and the meat went bad 
And she said to the boy one day
I'm leaving tonight and I never will return 
From the land of my Spirit Kin
You must take what you need and trade what you can 
For a Red Man's grave down in Cherokee Bend

It wasn't very long till she closed her eyes
And he wrapped her in a robe
He found her a place on the side of the hill 
And he buried her in the snow
Early in the spring he was seen comin' down 
With his load looking ragged and thin
Not a year had gone by when he stood once again 
In the government store down in Cherokee Bend

He was ten years tall and a Redskin too
So he hadn't much face to save
And the men sat around and they laughed and they clowned
At the talk of a criminal's grave
Then a man from the east didn't smile when he said 
You're the son of that Indian scum
If you value your hide then you better abide 
By the white man's rules here in Cherokee Bend. 

Daddy didn't like what the white man said
'Bout the dirty little kid at his side
Daddy didn't like what the white man did
Nor the deal or the way that he lied
Then he spit on the floor of the government store
And it served him to no good end
At the close of the day they had taken him away 
To the white man's school down at Cherokee Bend

It's been 21 years since the boy disappeared
Where he run to, nobody knows
But they say he fell in with a man named Jim
And he rides in the rodeos
And they say he returned all alone to a place 
Hidden deep in the Kentucky glen
And it's pretty well known who hauled up the stone 
To the grave on the hill above Cherokee Bend

Daddy didn't like what the white man said
'Bout the dirty little kid at his side
Daddy didn't like what the white man did 
Nor the deal or the way that he lied
There was blood on the floor of the government store
When the men took his daddy away
It was 1910 and they never had a friend
When he died by the rope down at Cherokee Bend
It was 1910 and they never had a friend
When he died by the rope down at Cherokee Bend 



Cherokee Bend Lyrics
---
IT infrastructure advisory and support services / Web sites / online stores by Valerie Magee of
&nbsp
Darien Cheese Francos Wine Merchants Harlan Estate & Bond Wines Len Goldstein Corporate and Business Law Denver


Another Folk Artist: Judy Collins
More music and musicians: Steve Gillette's Songwriter Website, Rick Dougherty, Huxtable, Christensen & Hood, Chad Mitchell Trio (hosting, maillng list, store), David Rea, Robin Batteau (Hosting & Email List), Rob Carlson & Benefit Street (Hosting, Email List, Store), Modern Man (store only; Rob is also the author of The Palatine Ship), Steve Goodman Biography, The Brothers Four, Steve Gillette & Cindy Mangsen (Cat Tales (Cat Songs), Steve Gillette's The Man), Fourtold, Bob Warren, World Folk Music Association (hosting, store), Hamilton Camp, Bob Gibson - Yes I See, Michael Jerling, Michael Jerling's Fool's Hill Music, Mike Quick, Doug Irving, Cathy Cowette, Spare Parts (Waltz Sheet Music, Civil War Music, Tango Music, English Country Dance Music, Old Tango Music CD, store)



©1998-2022 by Valerie Magee Privacy Policy / Legal